Nintendo Wii Bundle

As mentioned on previous Deals of the Moment, the Wii has been sold out and out of stock almost everywhere since its release over 2 years ago on November 19th. The previous Deal of the Moment Wii bundles at Buy.com sold out within hours. So if you've been looking for one, Newegg.com has this Wii bundle with 7 games and an extra Nunchuk Controller for $569.99. The bundle includes Wii Play which includes a Wii remote so the extra nunchuk controller can be used with the extra Wii remote. So you'll get a total of 2 Wii remotes and 2 nunchuk controllers.
Bundle Includes

Wii System w/Wii Sports
Table Tennis Video Game
Metal Slug Anthology Video Game
NBA Live 2008 Video Game
Fantastic Four: Rise of the Silver Surfer Video Game
MLB Power Pros Video Game
Madden 2008 Video Game
Wii Play Video Game and Accessory
Nintendo Nunchuk Controller

See site for pics of all games and accessories.
Specifications

General
Brand Nintendo
Model 780332004579
Type Wii Bundle
Color White
Media Type Nintendo Wii disc, Nintendo GAMECUBE disc

Processor
Processor Type IBM PowerPC "Broadway"

Storage
Storage Capacity 512 MB
Storage Type Flash memory

Graphics
Graphic Processor ATI Hollywood
Component Video Support Yes

Communications
Connectivity Features IEEE 802.11 b/g

Input Device
Input Joystick, Remote control

Connections
Interfaces ( 4 pin USB Type A ), 4 x Game controller, Component video output, Composite video output, S-Video output

2 Nintendo GameCube Memory Card, 1 SD Memory Card
To celebrate the Halo 3 released tomorrow, a few places have some good deals on Halo 3. So if you don't already have it preordered, check these out: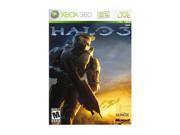 Halo 3 Xbox 360 Game Microsoft

Save $6 by getting Halo 3 at Newegg.com. Newegg.com has Halo 3 for $53.99 (list price is $59.99).
New Release: Order Halo 3 and save $10 on any game $29.99 & up at BestBuy.com! Now through 10/6.

For a limited time, when you buy Halo 3 at Best Buy you can save $10 on another game priced $29.99 or more. You can choose either the normal standard version of Halo 3 for $59.99 or the Limited Edition for $69.99.
How to get this deal:
Choose a video game priced $29.99 or more.
Return to this page.
Select your version of Halo 3.
Click the Add Items to Cart button.
The Covenant rules the Earth the Flood has been unleashed and the fate of life everywhere hangs in the balance. There is only one person capable of saving the human race: Master Chief. This genetically engineered super soldier is the last chance for humanity's survival. Everything he has gone through has led him to this monumental moment. Stowed away on a Forerunner ship, he rushes back to Earth to defeat the Covenant once and for all. Hopelessly outnumbered, and with his Artificial Intelligence companion Cortana ensnared by Gravemind, things look bleak. But when you are bred for battle like Master Chief, you fight past the breaking point and bow to no one. It's all been building to this a desperate, final war that leads to a soul-shattering climax of epic proportions. Help this incredible hero stop the Covenant, destroy the Flood and save the lives of every person on the planet.The third chapter in the critically acclaimed franchise features insane battles with an arsenal of alien and human weaponry. You'll discover all-new armaments and characters as you fight to the finish. You can even play online with Xbox Live and battle in pulse-pounding multiplayer action. Next-generation graphics and technological advances, such as enhanced artificial intelligence and a beefed-up real-time lighting engine, make Halo 3 shine with stunning realism. Finish the fight once and for all in the epic conflict between the Covenant, the Flood and the entire human race in the climatic curtain call of the awesome Halo saga.